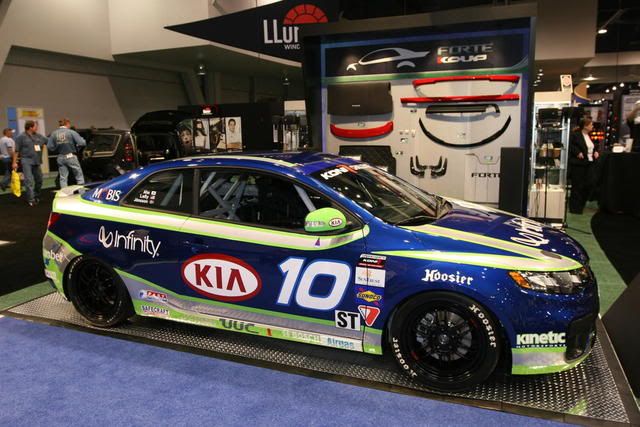 Kia Motors America (KMA) announced its official its U.S. motorsports program at the 2009 SEMA Show. KMA has teamed with the Kinetic Group to build and campaign two Forte Koups in the 2010 GRAND-AM KONI Sports Car Challenge Series in the Street Tuner (ST) class.
"The Forte Koup is the latest chapter in the dramatic Kia brand transformation story, and the decision to enter into the motorsports arena was an easy one to make," said Michael Sprague, vice president of marketing, KMA. "The Forte Koup's performance-inspired styling and outstanding driving dynamics make it a natural fit for road racing, and competing in GRAND-AM's KONI Challenge Series enables us to reach an entirely new and passionate base of automotive enthusiasts."
As part of its motorsports team development, KMA identified and partnered with the Kinetic Group to develop, build and campaign the two Forte Koup KONI Challenge spec cars. Based outside of Atlanta, Kinetic provides a comprehensive array of in-house services, including fabrication, composites, paint and body, engine, and electronics departments. Completing the team, decorated drivers Andy Lally and Nic Jönsson have been secured to drive the two Forte Koup entries in the GRAND-AM KONI Challenge Series in 2010.
The GRAND-AM KONI Challenge Street Tuner (ST) class utilizes production-based race cars and has a wide variety of vehicles from the U.S., Europe and Asia, using weight and intake restrictions to maintain a level playing field for all entrants.
[Source: Kia Motors America]